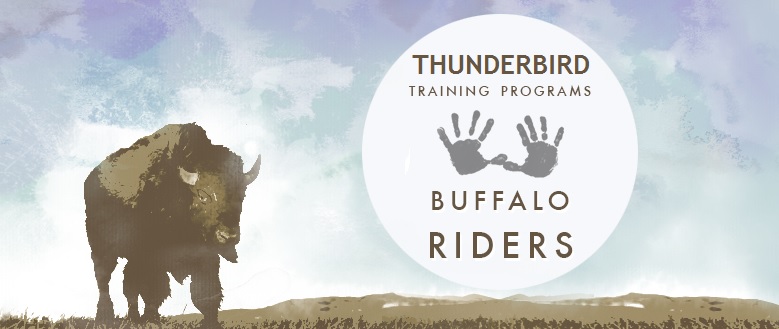 Get ready for the next class!
Come back soon for more information about the next class!

Need to book a room?
Room booking information TBA. Come back soon for more information!

For more information
on Buffalo Riders training please e-mail training@thunderbirdpf.org
or call us at (519) 692-9922. You can also call our toll free number at
1-866-763-4714.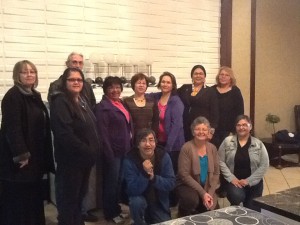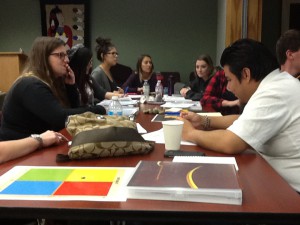 The Buffalo Riders program in a few words
The Buffalo Riders program enhances and strengthens community-based capacity to provide youth with early and brief interventions and support services in reducing substance using behaviour. The five day training program for facilitators includes the latest research and culturally specific teachings about youth resiliency, risk and protective factors, and developmental assets/factors which research has identified as critical for young people's successful growth and development.
Frequently Asked Questions (FAQs)
Who is the target group of the Buffalo Riders program?
First Nations youth between the ages of 11 – 13 years who are indicated as at risk through substance use, living on reserve, and/or attending the community school.
---
Who should attend the training sessions?
The training was designed for two facilitators from each community (one from NNADAP and one from the school/community) in order to strengthen partnerships between the local health centres and schools and, in many cases, other community partnerships. Sometimes time and funds do not always allow for each community to send two facilitators so the attendance of two facilitators is only recommended and is not mandatory. This training would most benefit:
NNADAP Workers
First Nations Wellness Workers
First Nations School Support Staff and Counsellors
First Nations Youth Counselors and Youth Care Workers
First Nations Addiction and Mental Health Workers
---
Why two facilitators?
Facilitator feedback from debrief:
"It was important to have another person (co-facilitator) to be there for support, especially to attend to individual student needs. If one facilitator did not connect with a student, the other one was able to. It was more difficult to offer the program when the co-facilitator wasn't able to participate any longer. The school is interested in offering the program to the Grade 6 class next school year."
---
What does it cost to attend a Buffalo Riders training session?
The fees for this training are based on costs, which require a minimum number of participants. In order to achieve that minimum, some areas have pooled their health and wellness teams, and invited partners to participate. Click here to learn more, and ask for a quote.
---
What is included in the registration fee?
5 days of training
All training manuals and books
Daily breakfast and lunch buffet
Daily morning and afternoon nutritional breaks
On-going training support with Thunderbird project coordinator
Access to online learning portal and online training to review modules
All the materials to implement the 10 program modules
Ongoing assess to student assessments with facilitator support
Debriefing and coaching by Thunderbird's expert training team
Please note that applicants must provide their own travel and accommodations – these are not included in the registration fee.
---
What is the Buffalo Riders training syllabus?
Module 1 – Program Background
Module 2 – Introduction to Drug Use and Misuse
Module 3 – Indigenous Teachings
Module 4 – Resiliency
Module 5 – Cognitive Behavioral Therapy
Module 6 – Emotional Intelligence
Module 7 – Influencing Change in the Brain
Module 8 – Facilitation Skills
Module 9 – Screening, Needs Assessment, and Recruiting
Module 10 – Designing Your Sessions
---
What are the goals of the Buffalo Riders program?
Improve community capacity to deliver early intervention services for at risk and/or substance using youth
Increase access to early intervention and evidence informed interventions for at risk and/or substance using youth
Increase utilization of early intervention services
Support services in reducing substance using behaviour
Decrease demand for and utilization of long term intensive treatment services
Decrease substance use and harms associated with substance use among youth
---
What are the deliverables of the Buffalo Riders program?
Provide training manual, games, books, reading material, and 26 training modules to support a 10 session life skills-based after school or in school program for youth aged 11-13 years old (grade 7 & 8)
Note: the program has been used with both adults and younger youth
Provide 5 days of face-to-face training for up to 20 facilitators per session
Provide 20 pre- and post- assessments in Resiliency, Emotional Intelligence, and Drug Use Screening Inventory (DUSI) / participant
Provide facilitator with support for implementation of the program after the 5 days of training
---
What theories are employed by the Buffalo Riders program?
Positive identity development increases hope, a vision for their future, and resiliency. Drug and alcohol use are reduced by learning accurate information about the impact that colonization had (and has) on establishing positive identity.
Strength based practices that include positive identity development and increasing resiliency. Drug and alcohol use are reduced through learning social and emotional competency along with the ability to resist peer pressure.
Improved capacity at the community level to deliver early intervention services results with more appropriate referrals for more intensive longer term treatment and, eventually, less demand for long term intensive drug treatment services.
One time interventions do not lead to sustainable change. An increased community capacity to provide appropriate supports increases opportunities for sustained change.