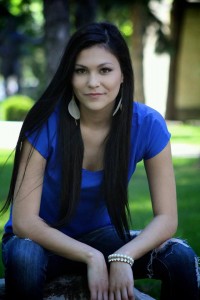 Michaella Shannon is a member of Frog Lake First Nations in Alberta. She currently lives in Saskatoon, Saskatchewan and is hoping to move to Toronto this coming fall. She is 18 years old and has finished her 1st year at the University of Saskatchewan. She plans to finish her first degree in Aboriginal Jurisdiction and Criminology and then enter the field of criminal law.
Michaella's first introduction to public life was at the age of 12 when she landed the part of the "ghost girl" on the television series Rabbit Fall, co-starring with actors like Andrea Menard and Tinsel Cory. Since this time her acting career has included My Lupine Life and she is currently playing the role of Sash Tanga in a children's television series called Space Stretch that teaches children how to do yoga.
Michaella was called upon to narrate the documentary film about youth building an environmentally friendly house in Cumberland House, SK. She can be seen on the My Wise Mentor website as an ambassador for encouraging young females to go into male-oriented fields of study. Michaella has appeared in commercials on television, billboards, newspapers, and magazines for Saskatchewan Tourism, Saskatchewan Teacher's Federation, Traxx Footwear, Idle No More, Saskatchewan Fashion Design Festival, White Dahila clothing, and Reginal Sankey Designs.
She was involved with the Saskatchewan Ministry of Health Campaign "What Else Got Wasted" which is an internet, poster, and television campaign to teach youth the dangers of alcohol abuse. Michaella developed workshops to address the issue of alcohol/drug abuse and the high incidents of suicide among youth in Indigenous communities. She is trained in suicide prevention and intervention and facilitates workshops linking the abuse of alcohol and drugs with the high incidents of suicide among Indigenous youth. She does these presentations through out the year but is usually booked during National Addictions Awareness Week (NAAW) at schools on reserves. Michaella has also developed workshops for high school girls called Decision Making and Reproductive Health which is a program to address issues of youth pregnancy.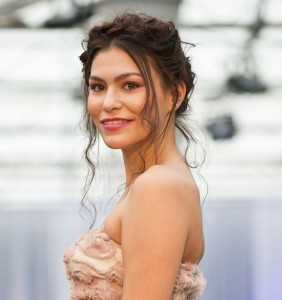 Michaella is one of Saskatoon's top models and is often called upon to walk the runways for numerous fundraising events throughout the province of Saskatchewan. She was asked to model at the Aboriginal Fashion Week Broadcasts on APTN, Vancouver Fashion Week, and has appeared on the fashion segments of Global and CTV news. Michaella is a stage escort for the Indspire Awards and the Sabex Awards.
Michaella became Miss Teen Saskatchewan on April 28, 2014 and will be going onto the Miss Teen Canada pageant in Toronto in July. She also attended the Canadian Model and Talent Convention from May 7 – 11 and came home with call backs for Paris, New York, and a request for a demo tape from Atlantic records.
Michaella attends ceremony and takes part in Native Spirituality practices. She understands how identity and culture are important to the foundations of a person's being. She lives a healthy lifestyle and understands the importance of balancing all of life's challenges.
She is greatly honored to be attending the Honoring Our Strengths national conference as a youth role model who represents how much can be accomplished when you are goal oriented, focused, and understand that self esteem and choosing a healthy life style is a large part of being successful.