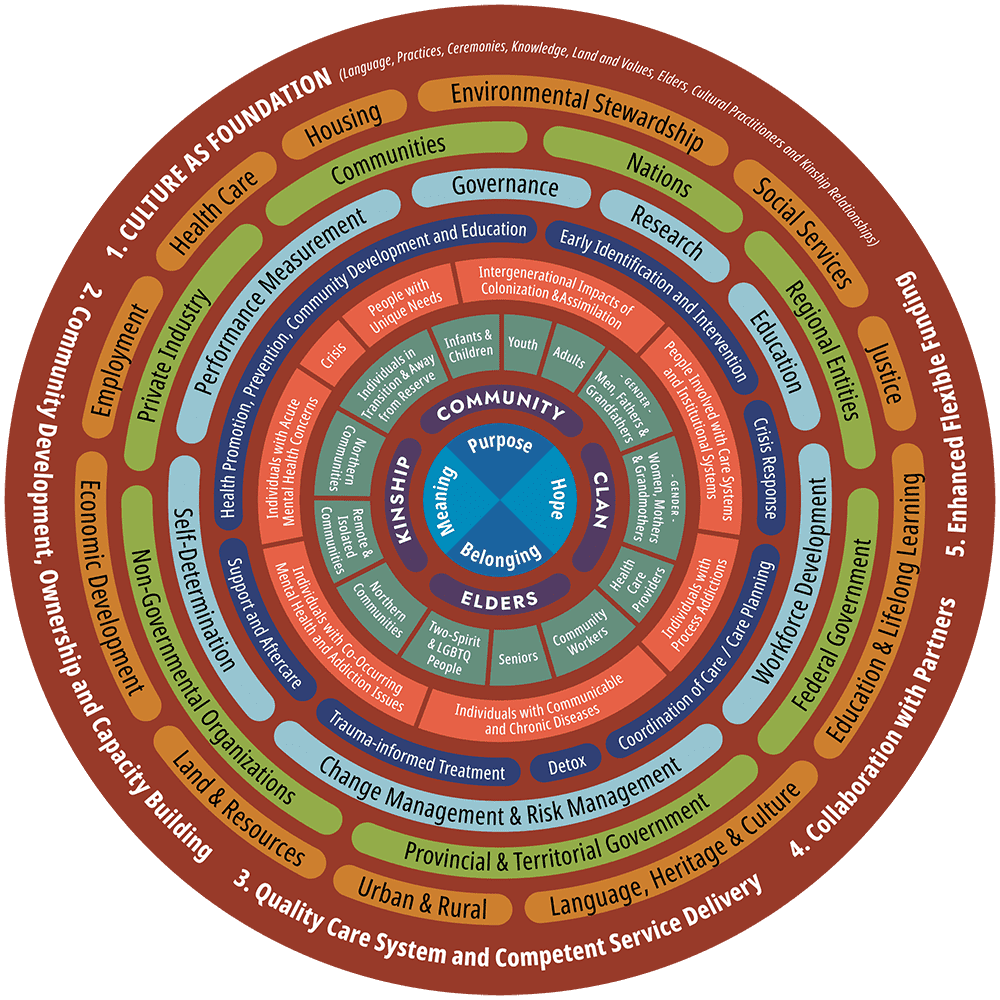 First Nations Mental Wellness Continuum Framework
"Mental wellness is supported by culture, language, Elders, families, and Creation and is necessary for healthy individual, community, and family life."
– First Nations Mental Wellness Continuum (FNMWC)
The FNMWC is a foundational framework that deals with mental wellness among First Nations people in Canada and outlines a wellness approach that is grounded in culture. It is based on the idea that we all have a responsibility to support wellness. It provides a continuum of care, attending to wellness through all stages of life.
The FNMWC discusses a range of services that are needed to help promote mental wellness (i.e., education, housing, land and resources, language, heritage, culture, economic development etc.). It also gives advice on policy and program changes that enhance services and result in improved mental wellness. Communities can use this information to deliver services in culturally safe ways and do what's needed to further develop their programs and services based on their own priorities.
The FNMWC states that a culturally relevant health system for First Nations communities includes governance, research, workforce development, change and risk management, self-determination, and performance measurement. The continuum is rooted in cultural knowledge and emphasizes First Nations strengths and capacities, building upon the Honouring Our Strengths national framework.
If you'd like to read more about the FNMWC and the Summary Report here are links to both documents.

Mental wellness is a balance of the mental, physical, spiritual, and emotional. This balance is enriched as people have:
HOPE for their future and those of their families that is grounded in a sense of identity, unique Indigenous values, and having a belief in spirit;
a sense of BELONGING and connectedness within their families, to community, and to culture;
MEANING and an understanding of how their lives and those of their families and communities are part of creation and a rich history
and finally, a sense of PURPOSE in their daily lives whether it is through education, employment, care-giving activities, or cultural ways of being and doing;
The
FNMWC

was created through teamwork between the Assembly of First Nations, Health Canada's First Nations and Inuit Health Branch, the Thunderbird Partnership Foundation, the Native Mental Health Association, and other community mental health leaders.