Native Wellness Assessment (
NWA

)™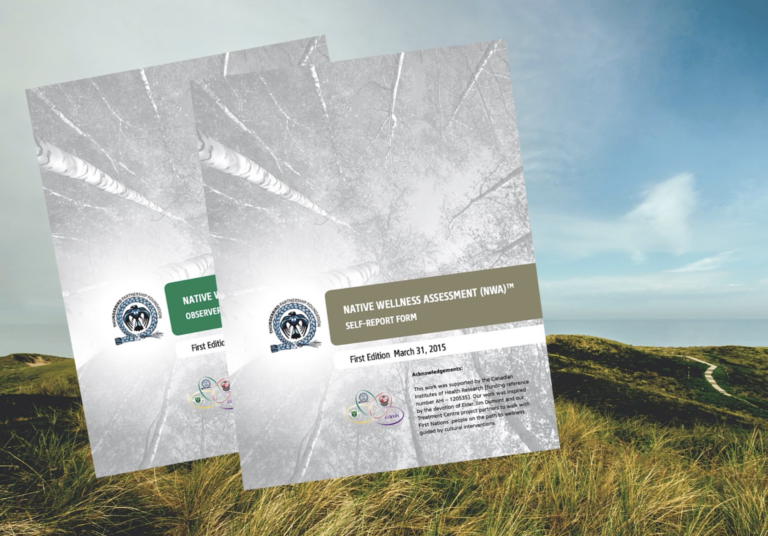 Much of what we do in health research focuses on examining deficits and weaknesses. But now, for the first time, Indigenous treatment programs and centres across Canada will be able to measure wellness of the whole person based on their strengths.
The NWA™ tool is the first of its kind to measure how cultural interventions affect a person's wellness from a whole person and strengths-based view.
Our research has shown the NWA™ to be a reliable way to measure changes in wellness over time across all genders, age groups, and cultures.
Full use of the NWA™ can be made available to any organization that provides Indigenous culturally based programs and services.
How the
NWA

™ came to be

This tool is a product of the Honouring Our Strengths: Indigenous Culture as Intervention in Addictions Treatment (CasI) research project which was created by a team of researchers from across Canada including:
Elders,
Indigenous Knowledge Keepers,
cultural practitioners,
service providers, and
decision makers.
Positive wellness outcomes
Pilot testing of the NWA™ revealed that clients who knew their own language reported higher overall levels of wellness.
This tool is proving that culture is the key to restoring and maintaining wellness, which is something First Nations people have long known.
The NWA™ provides culturally-based information to guide treatment services which can include:
spending time on the land,
learning from traditional teachers and healers, and
joining in storytelling and dancing.
As more program services use the NWA™, an evidence base is being built that shows the vital role of Indigenous culture in treatment plans for substance use and wellness promotion.
Using the
NWA

™ for Education or Research

If you want to use the NWA™ for education, research or other general purposes, please connect with us. No registration is needed for this type of access.

We will provide you with the two NWA™ assessment forms:
Self-Report Form (completed by client) and
Observer Rating Form (completed by Substance Use/Mental Health Service provider).
Additional useful support documents are provided:
Comparative Sample Client Report 'Josie Wright'
Three journal articles, which provide more details about the validity of the

NWA

™. 
Personal, Educational or Research use
You may freely make copies of the

NWA

™ providing no changes are made.
You must credit the Thunderbird Partnership Foundation:
Citation: Thunderbird Partnership Foundation. (2015). Native wellness assessment. National Native Addictions Partnership Foundation Inc. Retrieved from https://www.thunderbirdpf.org/nwa-info
You may convert into other formats, such as digital or taped versions for the visually impaired.
Formal Permission Document
We know there are times when you need a formal permission document, and we can help you with that too. Contact us here.
Learn More
If you have any questions about the NWATM please fill out our contact form and we'll get in touch with you!