Addictions Management Information System
Thunderbird Partnership Foundation implements the Addictions Management Information System (AMIS) database to collect reliable evidence of stories, experiences, and strengths of National Native Alcohol and Drug Abuse Program (NNADAP) and the National Youth Substance Abuse Program (NYSAP) treatment centres across Canada. AMIS data helps inform client care, highlight Indigenous needs, shows the strengths of NNADAP/NYSAP, and supports research plans over time.
AMIS was created in 2014 by Health Canada and the AMIS Working Group.
AMIS

Expansion to Community Organizations

AMIS

is expanding to include First Nation governed community organizations that have a strong working relationship with National Native Alcohol and Drug Abuse Program (

NNADAP

) and National Youth Solvent Abuse Program (

NYSAP

). This can include:
a community-based addiction program with no specific link to treatment centres with:

A day program,
An outpatient program, or
A residential program, or
A land-based program with or without a community based clinical program.
Software, training, and ongoing support is free. If interested in learning more, please contact the Addictions Program Coordinators at
amis@thunderbirdpf.org
Resources for
AMIS

Users
AMIS

User Group

Team members from Thunderbird, YSAC and eCentre are in attendance to assist and help users navigate concerns they may encounter. These virtual meeting sessions allow treatment centres to network and share ideas. Zoom meetings are held the 3rd Thursday of each month to provide new information, discuss issues or concerns with data management and AMIS. If you are interested please contact amis@thunderbirdpf.org to register to attend.
Community of Practice for
AMIS

Users

The Community of Practice will contain training videos, diagrams, visual aids for entering data,  and opportunities to communicate and network with other

AMIS

Users. Coming soon!
Assessments
Two valid, reliable and culturally sensitive outcome measures are collected in the AMIS database. 
Native Wellness Assessment™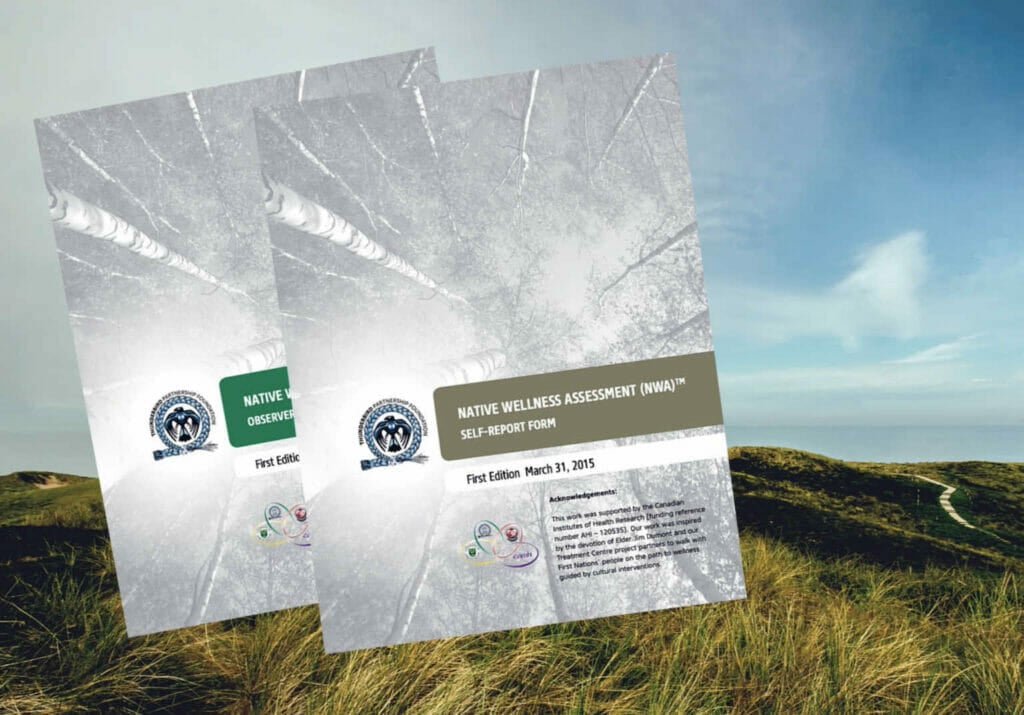 The AMIS includes the Native Wellness Assessment (NWA).
The Native Wellness Assessment™ (NWA) tool, launched in 2015, helps promote mental wellness through Indigenous culture and focuses on clients' strengths. It is the first of its kind in the world!
The Native Wellness Assessment:
Measures the impact of culture to Hope, Belonging, Meaning and Purpose
Measures the connection to culture to demonstrate the difference culture makes in mental wellness
The NWA tool is available:
through

AMIS

to organizations who have interest in measuring wellness from a cultural and strength-based approach,
through

NNADAP

/

NYSAP

Treatment Centres across Canada, and
on our website here
The NWA™ tool measures the effects of cultural interventions on a client's wellness; proving something First Nations people have known a long time – culture is the key to restoring and maintaining wellness. The Indigenous approach to wellness is wholistic in nature; it takes the whole person into account involving their mind, body, spirit, family, and community.
DUSI (Drug Use Screening Inventory)
The DUSI-R is an addictions and mental health assessment tool that reflects if residential treatment is the best fit for a client. The DUSI is:
 culturally relevant 
includes a trauma scale to help workers better evaluate and assess their First Nations clients.
Growing the Team
Thunderbird has expanded its AMIS team to include an Addictions Program Supervisor and two Addictions Program Coordinators, for building capacity to support AMIS users. The team:
plans, coordinates, and supports the addictions management database
is the dedicated contact for the

NNADAP

and

NYSAP

treatment centres and stakeholders
establishes good working relationships with treatment centres, community partners, and other regional and national stakeholders to help achieve the goals in data collection
To learn more please contact us at amis@thunderbirdpf.org
AMIS

History and Background

AMIS was created when Indigenous treatment centres realized they needed a more modern data system to improve how they collect, analyze and report data that is truly representative of indigenous experiences and needs.
Early Days
National Native Alcohol and Drug Abuse Program (NNADAP) Treatment Centres said the Substance Abuse Information System (SAIS) that they were still using, was out of date and no longer met their needs. It no longer was able to provide the kind of analytics treatment centres needed in order to provide the best client care.
First Upgrade
The first upgrade was piloted in a few treatment centres in 2010-2011. Health Canada and the AMIS Working Group improved the practical needs of the new system and hired a vendor to take on the work.
AMIS

System

eCenter Research Inc., a Canadian corporation, was the successful vendor in 2012.  They focus on software as a service for mental health and addictions treatment providers in Canada, the United States, and abroad. eCenter Research also has experience in creating data systems solutions with First Nations communities.
With advice and guidance from the AMIS Working Group and Secretariat, eCenter Research began its work on this three-stage project:
The
AMIS

Working Group

The AMIS Working Group included members from:
Treatment Centres,
First Nations communities,
Thunderbird Partnership Foundation
Youth Solvent Addictions Committee (

YSAC

), and
Health Canada's First Nations and Inuit Health Branch (

FNIHB

).