Thunderbird's training courses are developed from a culture as foundation, strength-based trauma informed approach. Indigenous Knowledge and culture as foundation guide all aspects of the training.
The method of training delivery is structured to support the content and engage participants in a shared learning space that includes Indigenous teaching circle concepts. Ensuring these Indigenous principles and values are applied throughout in-person and virtual training along with tools available through virtual platforms creates a group experience and expression of Hope, Belonging, Meaning and Purpose.
We continue to expand our training with the goal of building a national network of regional First Nations trainers across Canada. These trainers deliver Thunderbird's certified curriculum via our Train-the-Trainer (TTT) model. Our goal is to increase the capacity of First Nations across the country to access certified training in order to support their communities.
After completing their training, trainers are enrolled in an online hub called the Community of Practice (CoP). Individualized training hubs added to the CoP ensure training participants and former training participants can share resources, discuss their specific training, and find peer support. Thunderbird creates the online hubs for all of its training courses.
Thunderbird promotes any available seats for scheduled training sessions through our partner networks and the Thunderbird Community Wellness Hub. Thunderbird's training courses are available at no charge for NNADAP/NYSAP treatment centre employees and First Nations community wellness workers.
Here is what people are saying about our virtual training:
"Even though this was online you created a warm, welcoming atmosphere. Enjoyed it."
"It was not what I expected. It was really awesome. I thought it would be dry but all the different forms of tech used and activators kept my interest. I enjoyed myself thank you. "
"I really enjoyed this training and the components of zoom and flow of the presentations. I enjoyed the breakout rooms and was impressed on how efficient it went."
"I really enjoyed it and meeting other support people from across the country that have the same interest as I do."
"Meeting everyone from around Canada was wonderful and just the sheer resilience of it all. Being able to participate in something like this through a worldwide pandemic was incredible."
"[Liked the] culture integration; cultural aspect and how it ties into practice and helping others and myself."
"I enjoyed listening to other's stories and how they put perspective on the training."
"Really like the different tools you used to facilitate interaction and communication. Great knowledge of topics and very open to everyone's input and ideas."
"I want to thank Thunderbird for the courses they had online. The courses were very challenging for me but made me more aware of what a
NNADAP
counsellor needs to know."
Training Opportunities
The Training and Education Team at Thunderbird offers a variety of different learning platforms and opportunities. If you have any questions about training and education learning opportunities, please contact us. 
The Training and Education Team at Thunderbird offers a variety of different learning platforms and opportunities. If you have any questions about training and education learning opportunities, please contact us!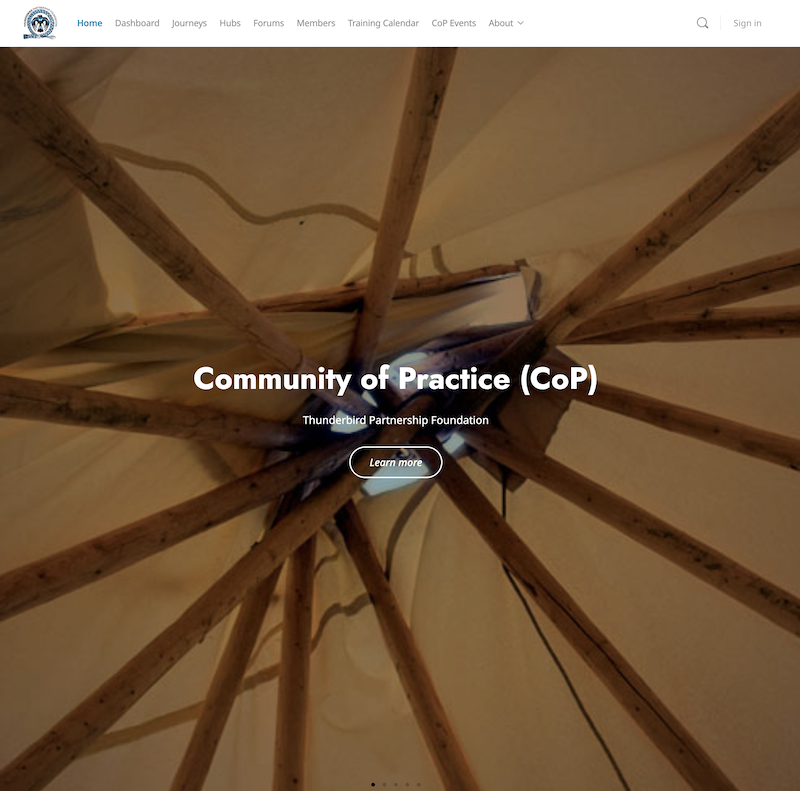 Community of Practice - Community Wellness Hub
The Thunderbird Partnership Foundation's Community of Practice (CoP) is a virtual community designed to connect people, enable dialogue, stimulate learning, capture, and share existing knowledge, introduce collaborative process and generate new knowledge. The Community Wellness Hub (CWH) is open to persons currently employed as NNADAP Workers (and In-Patient Treatment Addiction Workers), and persons who work with an Indigenous specific treatment and wellness program. The CWH is housed within the CoP.
Thunderbird's Training & Education team has developed a series of micro-learning knowledge exchange videos. These micro-videos were developed from existing training course content, to highlight key concepts and information on Indigenous trauma informed care approaches, and harm reduction, in brief easily accessible formats.

The 6 micro-videos highlight Life Promotion presentations from the Indigenous Youth Action Group at the 2021 World Indigenous Suicide Prevention conference. The Indigenous Youth Action Group was comprised of youth from across Turtle Island and their presentations shared essential elements of the Life Promotion toolkits they developed supported by Elder Ed Connors and Thunderbird Partnership Foundation. The micro-videos are an opportunity to share empowering, inspirational messages of youth encouraging life promotion through a connection to self, spirit, land, and community.