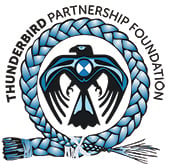 The Thunderbird Partnership Foundation is the result of a merger between the National Native Addictions Partnership Foundation (NNAPF) and the Native Mental Health Association of Canada (NMHAC) that occurred on June 25, 2015. This new national organization brings together the efforts of these organizations to develop and support holistic healing approaches of the First Peoples of Canada as defined within the First Nations Mental Wellness Continuum Framework and the Honouring Our Strengths Renewal Framework.
Together, the organizations that form the Thunderbird Partnership Foundation represent some of the most current and promising thinking about holistic healing and wellness within the First Peoples communities of Canada.
Vision
Cultivating and empowering relationships that connect us to our cultural strengths and identity within holistic and healthy communities.
Mission
The Thunderbird Partnership Foundation is the leading culturally centered voice advocating for collaboration, integrated, and holistic approaches to healing and wellness.
Mandate
The Thunderbird Partnership Foundation is the national voice advocating for First Nations culturally-based addictions services.
The Thunderbird Partnership Foundation is a member of the Wharerātā Group which is an international network of Indigenous leaders working in mental health and addictions. We share a vision of the near future in which Indigenous peoples sustain their optimal health and wellbeing and contribute to that vision through strategic use of our Indigenous leadership influence on mental health and addictions systems.